Day 1: Public-Private Partnerships and Next Generation of e-Services
Today, May 18 saw the kick-off of the 6th e-Governance Conference – Giant Leaps Start With Small Steps. Organized by think thank and consultancy e-Governance Academy (eGA), it is one of Estonia's flagship events for global decision-makers and business leaders to learn and discuss digital transformation. And this time, it does not take place just in Tallinn, Estonia but worldwide.
This year's e-Governance Conference is entirely digital, from live discussions to seminars and the Expo Hall. Despite the disruption caused by the current Covid-19 crisis, a record number of over 940 participants from 129 countries have registered for the event. All continents are represented, a further sign that the need for digital is now stronger than ever before.
We present here a day-by-day review of the key sessions held by the international expert speakers participating. In Day 1, Overview of Digital Society, eGA takes you through the whole journey of e-governance – from the basics to principles for next-generation e-services in proactive governance. Other sessions from Day 1 include a focus on Tallinn City, a roundtable conversation with Intel on working from home, and an introduction to Estonia's startup ecosystem.
Public-Private Partnership Models in e-Government Development
Almost 5 billion people are on the internet worldwide and, in 2019, they have spent in total 1 billion years online using different services. The public sector needs to adapt to the way citizens consume services, but there is no single way of getting there.
Linnar Viik, Programme Director of Smart Governance at e-Governance Academy, outlines three different models of digital transformation governments can undertake. They depend on the degree of involvement and integration of state entities with the private sector. In this context, Public-Private Partnerships (PPPs) emerge as a hybrid alliance enabling far-reaching digital transformation. Beyond public services, they benefit the economy and society as a whole.
By adopting a collaborative approach with the private sector, governments build a common understanding of the contents and goals of innovation. This also allows public entities to share the costs and risks that development projects entail, while creating new domestic markets for the companies involved.
Public-Private Partnerships are set to be one of the main trends in e-governance in the next decade. PPPs are a new, virtuous option available to governments to save time and deliver faster. However, decision-makers should always keep in mind their own efficiency needs and goals, and choose a fitting approach accordingly.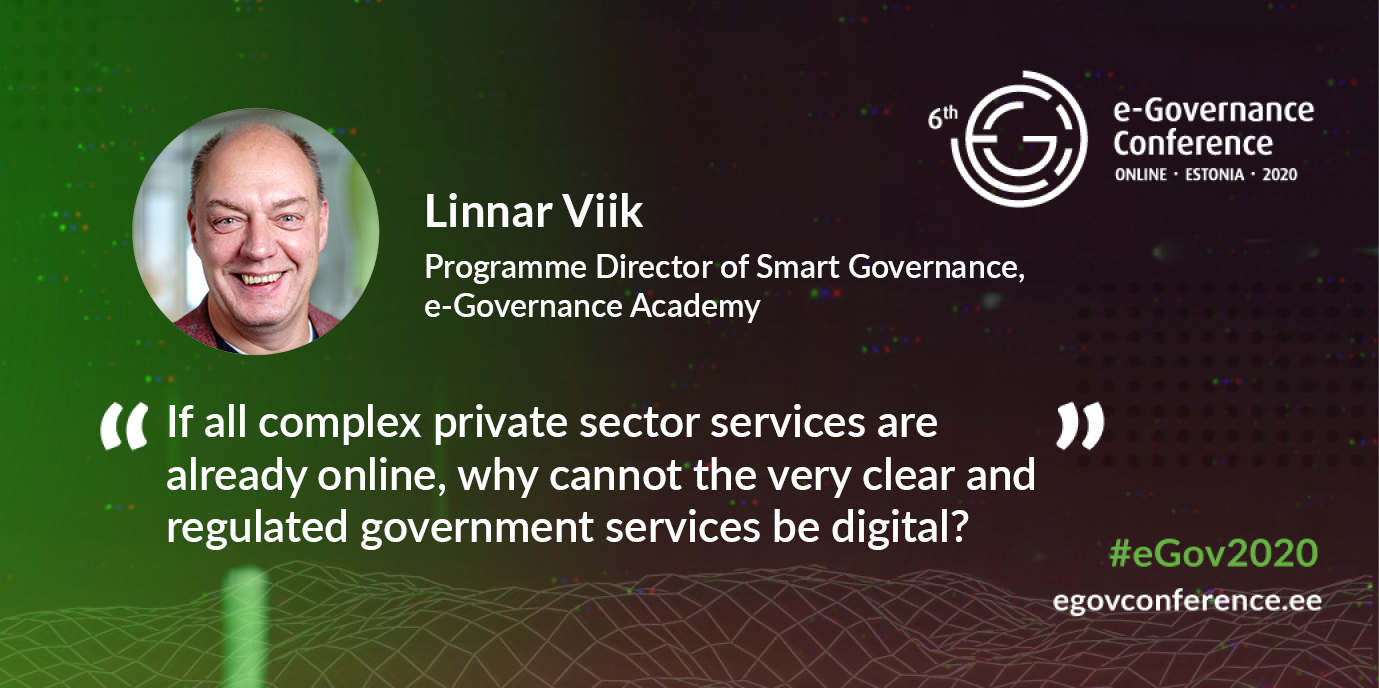 Next Generation Architecture Principles for e-Estonia
Overarching principles for organizing efficient public services should revolve around two main dimensions. First, we need to have proactive governance, facilitating citizens in the process of collecting relevant information on the services they need. Secondly, almost as a consequence, the public sector must automate routine processes, allowing people to concentrate on more productive, creative tasks.
Kristo Vaher, as Chief Technology Officer of the Government of Estonia, laid out the foundation for the next generation of e-services in the country. In an insightful white paper recently published, and widely discussed, he highlights how service provision can be streamlined to offer the best performance to citizens. But this cannot happen if public sector entities do not intervene on their process.
It is not desirable to just move to the digital field processes and services that do not meet efficiency criteria. Technology alone does not improve services just by default. Next-generation e-services must be informed by a domain-driven design, and a citizen-first approach. From baseline technology architecture to communication, and single gateways to access services, the focus in Estonia lies on life events and governmental proactivity.
Autonomous event microservice-driven architecture is the way forward. According to Vaher, this will be achieved by shifting from the current, end-to-end interoperability model powered by X-Road, to event-driven, loosely coupled services in an X-Room concept. Getting past the currently siloed distribution of information and services is crucial. The result? Strengthened, increased interoperability between information systems, providing services to the citizen in a more holistic way. Governmental virtual assistants can be the endpoint of this process, interacting with citizens to grasp their needs, and offer the best option to what they are looking for.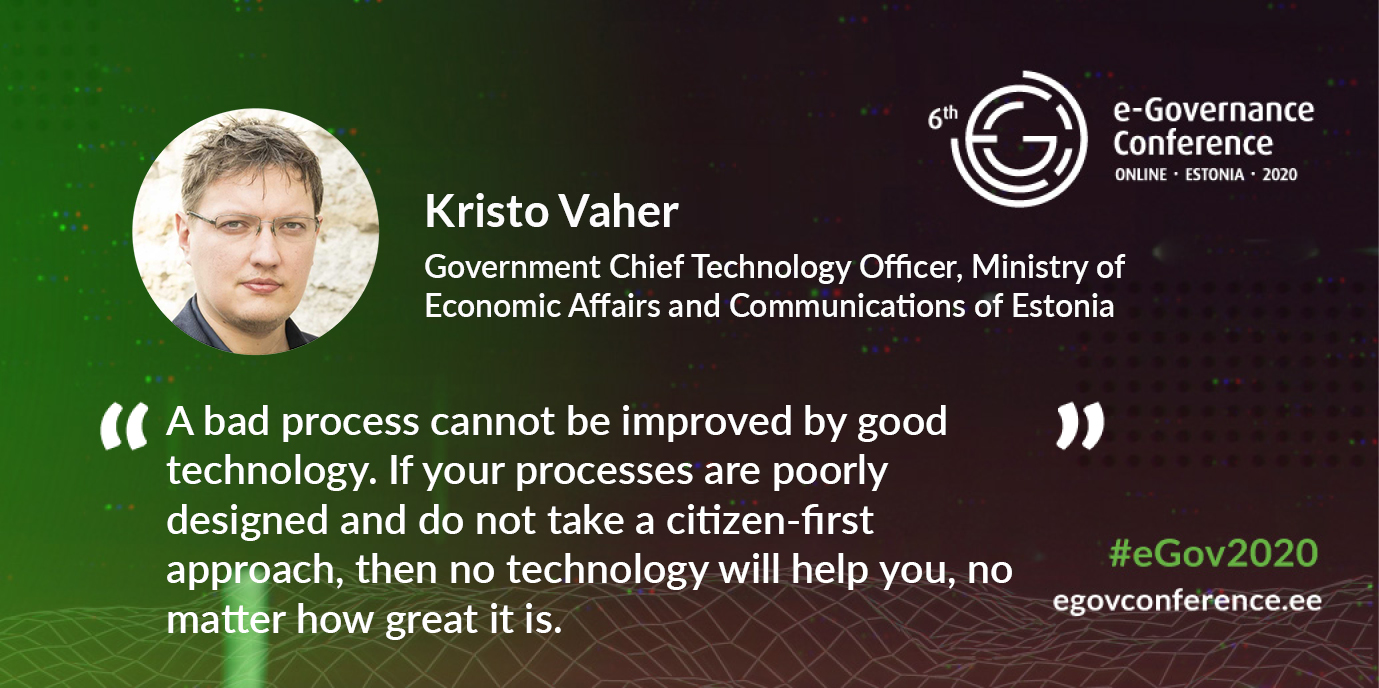 Live Discussion – e-Governance Practitioners Roundtable
In this live discussion, panelists included Arvo Ott, Kristo Vaher, and Epp Maaten, moderated by Linnar Viik.
Ranging from roadmap experiences in developing countries, to cybersecurity and Estonia's own path towards cutting-edge e-governance, participants reviewed the main topics discussed throughout the morning sessions of this first day of e-Governance Conference 2020.
Our Conference platform allows the audience to take part in the discussion and ask questions to experts. Many of these came from all viewers all around the world, as over 200 people have been constantly watching the live chat. Inevitably, the impact of the current Covid-19 crisis has been one of the talking points.
Digital maturity, indeed, is not only about realizing where we stand in terms of institutional and technical capabilities. It also requires us to analyze unexpected, challenging situations, and understand how to overcome them. In times when physical service provision has been forcefully disrupted by the pandemic crisis, the advantages of rolling out online services have become clearer as ever.
As emerged from our instant poll carried out among viewers throughout the morning, governments may have different focus areas in terms of capacity building. Top 3 responses listed digital identity, interoperability solutions, and population management issues as the main efforts governments are currently going through in terms of digitalization.
However, whether the aim is to establish core enablers, or advance in digitalization strategies, one conclusion is evident. As Linnar Viik said, "Nobody can say that going forward in a digital way is not possible, after what we have witnessed in the first half of this year."
The e-Governance Conference is an annual event aimed at international digital development cooperation. It has been organised by the e-Governance Academy (eGA) in cooperation with the Estonian Ministry of Foreign Affairs since 2015. This year, it takes place online. The event provides participants with a unique opportunity to discuss governments' current challenges in helping citizens to manage their lives and businesses online. 
The conference is supported by the Ministry of Foreign Affairs, the Swedish Government, the U-LEAD with Europe program, the Ministry of Economic Affairs and Communications, the City of Tallinn, Intel, Google and Microsoft.